Easter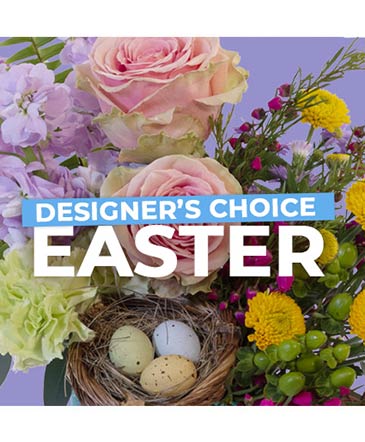 Easter Florals
Designer's Choice
Did some bunny say Easter? The spirit of Easter is all about hope, love, and joyful living. Spread the love and your joy for life by sending flowers that perfectly embody the holiday and season. We will design a heavenly arrangement for you, so you can focus on those who mean the most!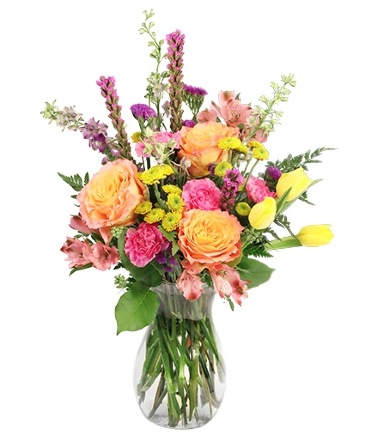 Vibrant Kaleidoscope
Vase Arrangement
Every turn of this arrangement brings forth a new colorful display. This arrangement contains bold hues of pink carnations, purple larkspur, yellow tulips, and dynamic Free Spirit roses. Send Vibrant Kaleidoscope to someone special today!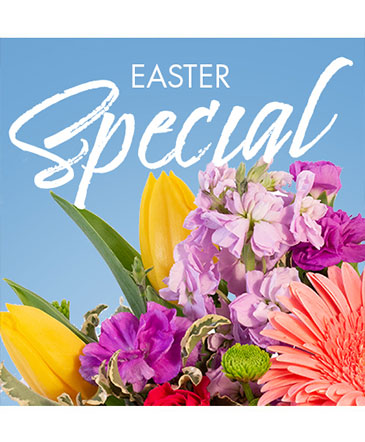 Easter Special
Designer's Choice
Celebrate Easter with flowers designed by our professional florists! Our holiday special arrangement is the perfect gift for the ones who love to decorate for all the festivities. Send these beautiful blooms to someone you love! This bouquet will have everyone feeling the joy of Easter.
3 Ways People Use Flowers for Easter
The temperatures are shifting, and optimism is in the air as spring makes its debut. What better way to mark this special time of beauty and joy than with a graceful and bright arrangement of Easter flowers? There are so many wonderful reasons to celebrate this beautiful occasion.
Creating An Easter Themed Dinner Table Elevate your dinner table setup to the next level. You may specially assemble your table for Thanksgiving or Christmas time. FLOWERS & HOME OF BRYANT/BENTON can help you brighten up your table for the spring with a lovely Easter arrangement. Your stylish décor and beautiful combination with a fresh set of flowers will be a sight to behold.
Livening Up The Room With A Spring Feel Springtime is known for grass being greener, trees beginning to bud, flowers blooming, and the reappearance of various animals that remained hidden during the cooler months. Fill the rooms of your home with a refreshing feeling of elegance and nature's gift of beauty. There are a variety of flowers that would be perfect to mark this new season.
Gifting Basket As children, it was common for people to receive an Easter basket full of goodies, brightly colored plastic eggs, and toys. As adults, you can share the joy and excitement of Easter as well. Celebrate this Easter by gifting your parents, grandparents, friends, businesses, or neighbors with a beautiful basket of bright flowers to light up their day.
Christians Celebrating the Resurrection of Jesus Christ A variety of denominations rooted in the Christian faith celebrate the resurrection of Jesus Christ during the time of Easter. It is popular for families or members of Christian churches to purchase peace lilies. Some purchase white flowers or incorporate peace lilies to be placed in their home as a reminder or members will donate them to their church to help provide additional décor.
Gift A Gardener Know a fellow green thumb? Whether you are family or friends with a farmer or home gardener, you can give them nature's gift of lovely flowers. This gift will not only acknowledge their passion and enjoyment for tending the Earth, but will also brighten their day through a special surprise.
However you choose to celebrate this Easter, FLOWERS & HOME OF BRYANT/BENTON can help you find the perfect flower arrangement. Explore our selection on our Easter flowers page or contact us at (501) 574-6110 with any questions you may have. One of our associates would be happy to help you.